Three Cup Chicken Recipe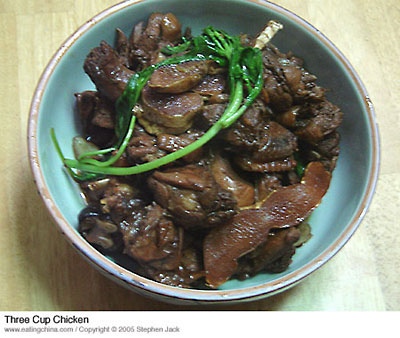 A deliciously pungent classic Taiwan dish. The three cups refer to one each of sesame oil, rice wine, and soy sauce. Make it at home quickly with this easy-to-follow recipe.
Serves 5–6
Ingredients
1 kg (2.2 Ib) chicken, chopped into bite-size chunks
1 tablespoons vegetable oil
15 cloves garlic, crushed
15 slices ginger
1/3 cup sesame oil
1/3 cup Taiwan rice wine
1/3 cup soy sauce
2 chilli peppers, roughly chopped
1 tablespoon sugar
A few stalks fresh oriental basil
Method
In a clay pot or casserole dish, brown chicken in vegetable oil.
Add garlic and ginger and fry for a couple of minutes.
Mix sesame oil, rice wine, soy sauce, chillies and sugar, add to pot. Bring to a boil.
Cover and simmer for 15 minutes. Place basil on top of chicken, cook for a further 5 minutes.
Remove chicken, minus liquid, to a serving dish. Serve with white rice.
Notes
Don't be tempted to skimp on seasonings–this dish is meant to pack a punch. And don't simmer much longer than 20 minutes or the chicken will start to resemble salty hunks of leather.


---
CHINESE NAME OF THIS DISH
三杯雞
sān bēi jī
---
YOU MIGHT ALSO ENJOY THIS RECIPE   …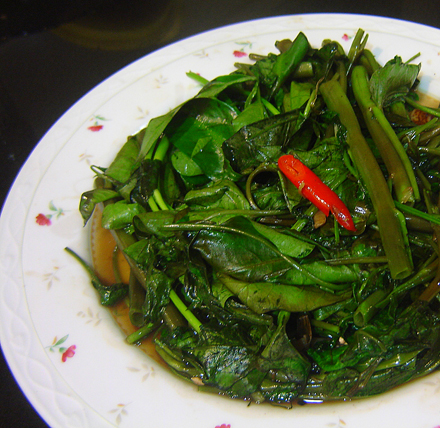 Stir-fried Water Spinach
Water spinach is one of the great vegetable staples of Taiwan and southern China. When cooked right, this quick-growing leafy green is a great combo of crunchy stems and tender leaves.
---