Stir-fried Water Spinach Recipe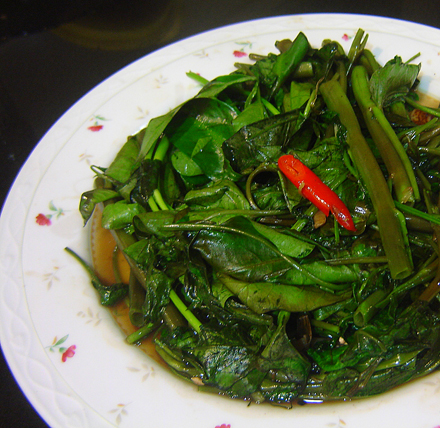 Water spinach is one of the great vegetable staples of Taiwan and southern China. When cooked right, this quick-growing leafy green is a great combo of crunchy stems and tender leaves. Water spinach (Ipomoea aquatica) is also known as Chinese swamp cabbage or water convolvulus. As its name implies, it thrives in water and wet soils. In warm conditions it is very quick-growing.
Serves 4
Ingredients
250 g water spinach
5 cloves garlic, chopped roughly
1 teaspoon ginger slivers
1 large chilli, sliced into large pieces
1 tablespoon vegetable oil
1 tablespoon water
1/3 teaspoon salt
1 teaspoon chicken stock powder
Method
Trim and discard thickest parts of vegetable stems. Cut into 4 cm lengths. Separate stem and leaf parts. Rinse.

Heat oil over a low flame, add garlic, ginger, and chilli. Fry till fragrant.

Bring the flame to a high heat. Add stem sections. Stir fry for 1 minute. Add leaf sections. Stir fry for 1 minute more.
Add water, salt and chicken stock. Fry for a further minute. Remove to serving plate and eat at once.
Notes
Like a lot of delicate Chinese leafy greens, water spinach should not be cooked even a minute too long. Remember that as long as it is hot, it is still cooking, so when I say, 'eat at once,' I mean it–have your diners seated, chopsticks in hand so they can enjoy it in peak condition.
---
CHINESE NAME OF THIS DISH
炒空心菜
chǎo kōngxīncài
---
YOU MIGHT ALSO ENJOY THIS RECIPE   …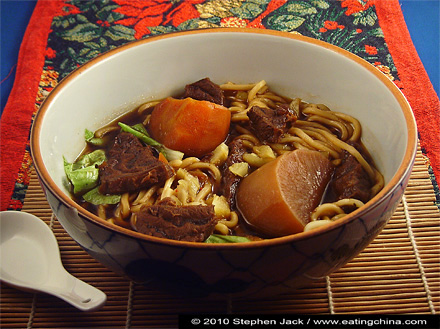 ---