Steamed Whole Fish Recipe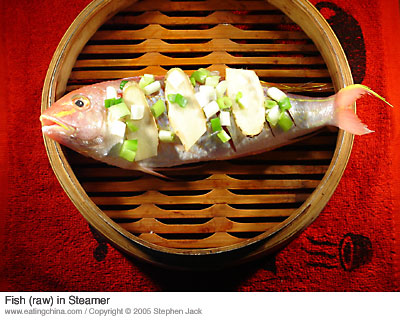 Chinese whole steamed fish, deliciously clean-tasting, is quick and easy to make at home following this simple recipe that uses just a few ingredients.

The Chinese prefer their fish whole–head, tail, skin, and often fins, all intact. Compared to fillet, fish cooked in its own package, so to speak, is much juicier and more flavourful.
Serves 4
Ingredients
1 medium-sized white fleshed whole fish (such as sea bass or red snapper)
Salt
2 stalks spring onions
3 or 4 slices ginger
2 tablespoons soy sauce
1/2 teaspoon rice wine vinegar
1 tablespoon vegetable oil
Few sprigs coriander leaves
Method
Rinse and drain fish.
On both sides of fish, cut deep incisions across width at 3 cm (1″) intervals.
Sprinkle with salt inside and out.
Cut spring onions into 2 or 3 sections, then slice lengthways into thin strips.
Julienne ginger slices. Insert spring onions and ginger into incisions–any excess can be placed inside fish.
Place fish in a steamer. Steam on a medium heat for about 10 minutes.
Place fish on a serving dish.
Mix soy sauce and vinegar and pour over fish.
*Remove water from wok. Add oil to wok, heat till sizzling and pour over fish.
Garnish with chopped coriander and serve.
Notes
*Tip: For an easy, instant soup, don't throw out the liquid in the wok after steaming the fish. Taste it, add water as necessary, and bring to a boil. You should have enough for a couple of bowls of fish soup. Garnish with spring onions or coriander, and you are all set.
---
CHINESE NAME OF THIS DISH
清蒸魚
qīngzhēng yú
---
YOU MIGHT ALSO ENJOY THIS RECIPE   …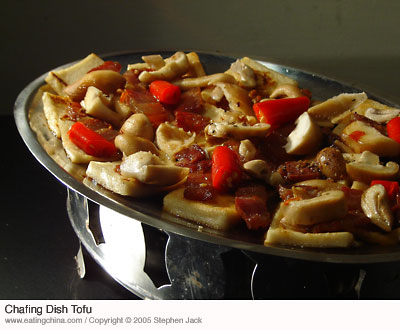 ---