Fried Tofu with Pork Belly and Mushrooms Recipe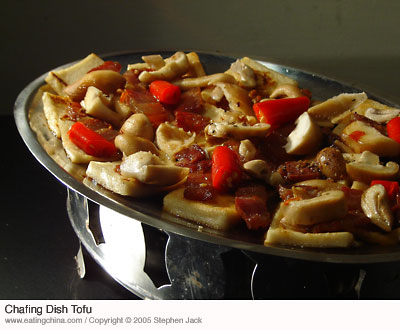 Chinese chafing dishes, bubbling away on your table are always fun to eat. This one, with tofu, pork and mushrooms, is easy to make following this recipe.

You will need some kind of chafing dish to complete the cooking of this dish at the table (though if you don't have one, all the cooking can be done in a wok, and served on a plate).
Serves 4
Ingredients
250 g (9 oz) extra firm tofu
80 g (3 oz) preserved pork belly, sliced thinly (bacon is a good substitute)
4 leek stems, cut into 3 cm (1″) lengths
4 medium fresh shiitake mushrooms, cut into chunks
1 large chilli pepper, sliced diagonally into 3 or 4 pieces
3–4 cups vegetable oil
Sauce
1 cup chicken stock
1 tablespoon soy sauce
1 tablespoon Taiwan rice wine
1/2 teaspoon of white sugar
1/2 teaspoon hot bean paste
Pepper, dash
1/2 tablespoon sesame oil
Method
Spread leeks and mushrooms around large chafing dish.
Cut tofu into slices about 2 cm (3/4″) thick.
Heat oil in a wok or pot to about 180º C. (355º F.) In manageable portions, fry tofu quickly until lightly browned. Drain well. Remove to chafing dish.
Fry pork in a wok at a medium heat until slightly crisp and fragrant. Remove and sprinkle over tofu on chafing dish.
Add chilli to chafing dish.
Except for sesame oil, add liquid ingredients to wok. Bring to a boil, then simmer for 5 minutes. Add sesame oil, and pour sauce over other ingredients in chafing dish.
Light chafing dish burners, and serve. Start to eat a minute or two after sauce starts to bubble. Extinguish burners after a few minutes to avoid overcooking.
Notes
Taiwan rice wine is quite different to the 'yellow' or Shaoxing wine in China. Mirin is the best substitute. For this dish, however, so little wine is used that you will not go too far wrong with any type of rice wine.
---
CHINESE NAME OF THIS DISH
鐵板豆腐
tiě bǎn dòufu
---
YOU MIGHT ALSO ENJOY THIS RECIPE   …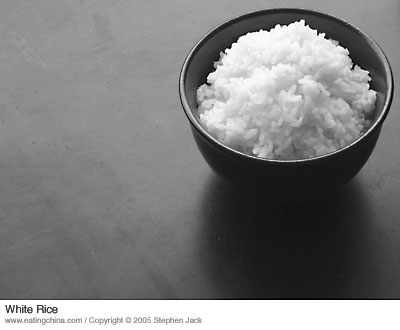 Plain White Rice
Cook Chinese-style steamed rice easily on your stovetop without the need for a dedicated rice cooker. Fluffy white rice is the perfect accompaniment for a huge range of tasty meat, and vegetable dishes.
---