Spring Onion Flatbread Recipe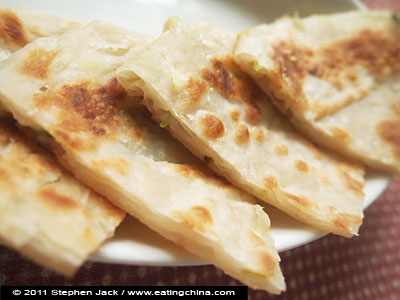 This delicious spring onion flatbread is sold all over China. Make it at home with these easy-to-follow instructions. Eat as a snack or as part of a meal. Also known as scallion pancake.
Serves 6 as snack or as part of a meal.
Ingredients
2 cups plain (all-purpose) flour
1 cup warm water
Vegetable oil
1 cup spring onions
Salt
White pepper
Method
Sift flour into a mixing bowl. Add water gradually and mix until blended together.
On a floured surface, knead into a smooth, elastic dough.
Roll into a ball. Cover with a damp cloth and let sit for 30 minutes.
Separate dough into 2 pieces. Roll into balls.
On a floured surface, roll out dough thinly (2 mm).
Daub some oil over surface of each piece of rolled dough.
Spread spring onions evenly over dough.
Sprinkle salt, and add a pinch of pepper.
Roll dough tightly like a burrito.
From end to end, roll each loop into a spiral like a snail shell. Tuck tail end on top of spiral.
Roll into a disc about the size of a dinner plate.
Add 1 to 2 tablespoons of oil to a flat-bottomed frypan, bring to a medium heat, and fry on both sides until golden brown.
Slice like a pizza and serve immediately with or without a dipping sauce, or with other Chinese dishes, in place of rice or noodles.
Dipping sauce options
Soy Dipping Sauce
Soy and Oil Hot Sauce
Notes
This dish is often mistakenly called a pancake but is actually unleavened bread–pancakes are made from batter.

If it's not salty enough, add some more after cooking. Oily food like this does not keep well so try to eat in one sitting, if not, best method of reheating is toasting.
---
CHINESE NAME OF THIS DISH
蔥油餅
cōng yóubǐng
---
YOU MIGHT ALSO ENJOY THIS RECIPE   …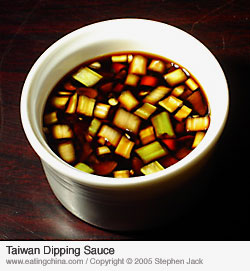 Soy Dipping Sauce
A classic Chinese soy dipping sauce you can serve with dumplings, fried and steamed bread, or use it in cooking. It is easy to make following this recipe.
---