Soy Dipping Sauce Recipe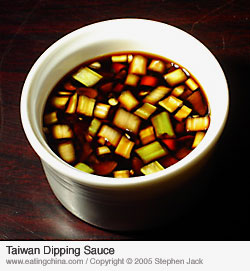 A classic Chinese soy dipping sauce you can serve with dumplings, fried and steamed bread, or use it in cooking. It is easy to make following this recipe.
Serves 4–6
Ingredients
3 tablespoons soy sauce
1 teaspoon white rice wine vinegar
1 teaspoon white sugar
1/2 teaspoon chilli, chopped finely
1 stalk scallion, chopped
1 clove garlic, minced
Pinch pepper
Method
Mix liquid dipping sauce ingredients in a bowl, making sure sugar is dissolved.
Add remaining ingredients and stir.
Notes
For a variation, add a teaspoon of rice vinegar and/or a teaspoon of chilli sauce. You can make up a larger quantity, and keep it in the fridge for several months.
---
CHINESE NAME OF THIS DISH
醬油沾醬
jiàngyóu zhān jiàng
---
YOU MIGHT ALSO ENJOY THIS RECIPE   …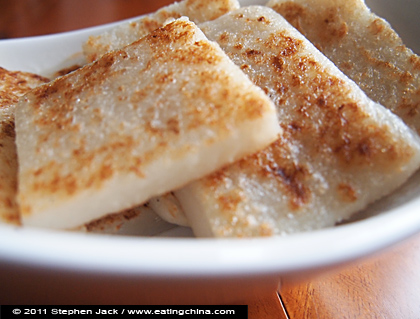 Fried Radish Cake
Radish cake is one of the great staples of breakfast stores and dim sum restaurants.
---