Roast Pork Belly Recipe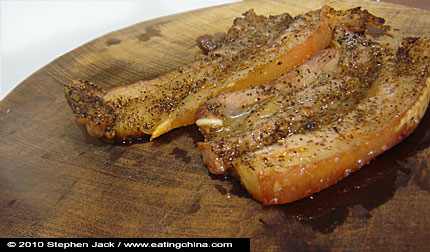 Crisp, succulent Chinese pork belly, well-seasoned and roasted in the oven (or barbecued), is a great dish that will set your taste buds racing. Serve as an appetiser or with rice as part of a meal.
This is an easy-to-make Taiwan Hakka dish but it needs to be prepared well in advance for best results.
Serves 3–4
Ingredients
5–10 mm (1/2'') thick slice of pork belly
½ cup Taiwan rice wine
2–3 teaspoons salt
2 teaspoons coarse ground black pepper
3–4 cloves garlic, finely chopped
2 cups of finely sliced cabbage (or Chinese cabbage, or lettuce)
Curing Method
Rinse pork.
Pour rice wine in a large bowl. Immerse meat in it, then drain quickly.
Rub salt and pepper into both sides of meat.
Pat garlic into one side of meat.
Beginning at smallest end, roll pork tightly – garlic on inner side, wrap tightly in cling wrap and store in refrigerator for 2 to 3 days.
Cooking Method
Method 1. Barbecue until crisp. Slice thinly across grain.
Method 2. Roast whole piece of meat at 225ºC (450ºF) for about 20 minutes or until crispy. Slice thinly across grain.
Method 3. Stir-fry: slice thinly across grain and stir fry at a medium heat until cooked and slightly crisp. Option: Add a vegetable such as celery, or leek when pork is nearly done.
Serve on a bed of raw cabbage. Serve with a garlic and rice wine vinegar dipping sauce, or alternatively, eat each piece of meat with a slice of raw leek.
Notes
The name in Chinese means 'salty pork,' and it is, so adjust the salt according to your tastes but not less than two teaspoons. Chinese usually call pork belly wu hua rou or 'five pattern meat' after the alternating layers of flesh, and fat in the crosscut of pork belly.
---
CHINESE NAME OF THIS DISH
鹹豬肉
xián zhūròu
---
YOU MIGHT ALSO ENJOY THIS RECIPE   …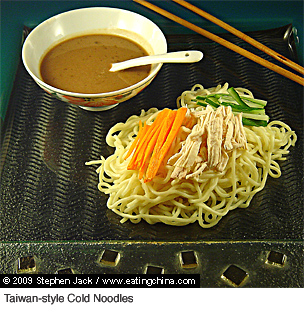 Taiwan Cold Noodles
with Chicken
This Taiwan salad, cold noodles with chicken in a tangy sesame and black vinegar dressing is delicious, and quick and easy to make following this recipe.
---