Spicy Fish Fry with Peanuts Recipe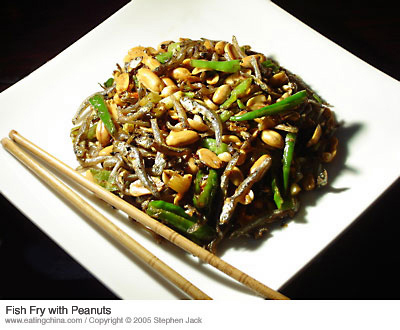 A classic Taiwan savoury appetiser. This dry fried dish is served daily by thousands of small noodle and dumpling shops across Taiwan. As a salty/spicy snack, it also goes well with an ice-cold beer or two.
Serves 4–6
Ingredients
80 g (3 oz) dried fish fry (4-6 cm length)
100 g (3.5 oz) cooked peanuts (with or without skins)
2 cups vegetable oil
2–3 large green or red chillies, sliced diagonally
3 cloves garlic, chopped roughly
3 stalks spring onions, chopped
1 tablespoon rice wine
Pinch pepper
Method
Heat oil in a saucepan to 120 degrees C. (248 F.) and deep fry fish for about 1 minute. Remove and drain.
Heat wok, add about 2 tablespoons of the oil. One by one add chilli peppers, spring onions, garlic, and rice wine, and stir-fry for 2 minutes.
Add fish and peanuts, stir fry for 4 or 5 minutes.
Notes
For a spicier version, add 1 teaspoon of chilli oil or chilli sauce. Some restaurants serve a sweet version. Just add a teaspoon of sugar for this. In Taiwan fish fry are usually silver-stripe round herring (Spratelloides gracilis).
---
CHINESE NAME OF THIS DISH
丁香花生
dīngxiāng huāshēng
---
YOU MIGHT ALSO ENJOY THIS RECIPE   …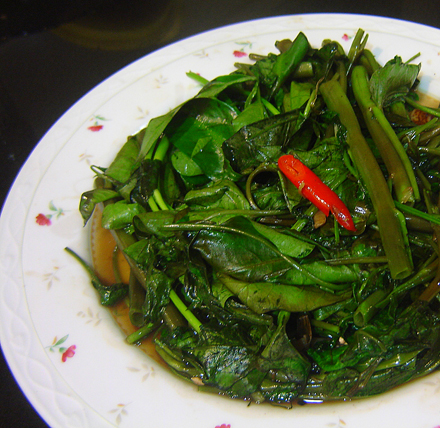 Stir-fried Water Spinach
Water spinach is one of the great vegetable staples of Taiwan and southern China. When cooked right, this quick-growing leafy green is a great combo of crunchy stems and tender leaves.
---