Sweet Mung Bean Dessert Soup Recipe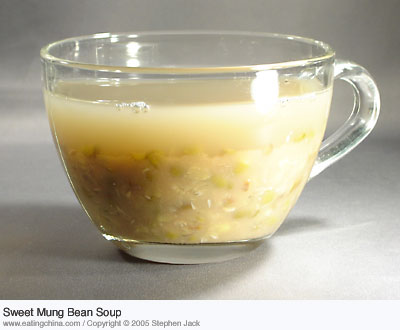 Traditional Chinese sweet mung bean (green bean) dessert soup is a healthy snack or dessert that is very easy to make. Serve cold in summer or hot in winter.
Serves 4
Ingredients
60 g (2 oz) mung beans
1.4 litre (1.5 qt) water
3 tablespoons white sugar, or to taste
Method
Soak beans overnight, or least for 4 hours, in plenty of water.
Place beans in a large pot, add water.
Bring to a boil, stir, and simmer for 20 minutes (do not cover).
Turn heat off, cover, steep for 30 minutes. Add sugar, stir.

Let cool, then refrigerate for 1 hour, and serve.
Notes
Mung beans, according to Chinese physicians, have a 'cooling' effect on the body, so this is a very popular dish in summer. The dish can also be served hot.
---
CHINESE NAME OF THIS DISH
綠豆湯
lǜdòu tāng
---
YOU MIGHT ALSO ENJOY THIS RECIPE   …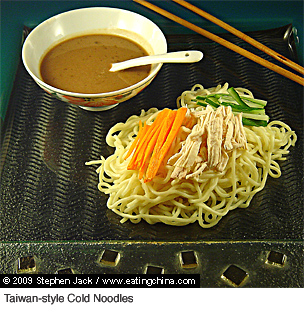 Taiwan Cold Noodles
with Chicken
This Taiwan salad, cold noodles with chicken in a tangy sesame and black vinegar dressing is delicious, and quick and easy to make following this recipe.
---