Hot and Sour Soup Recipe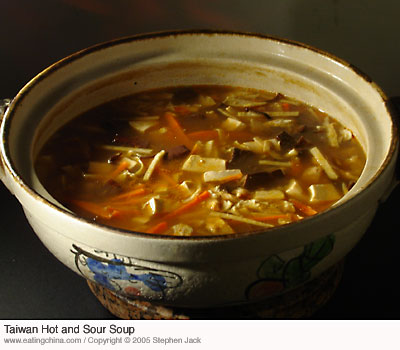 Authentic recipe for the delicious and extremely hearty Taiwan version of hot and sour soup, a dish that can be found in Chinese restaurants worldwide. You'll need a swag of ingredients, but it's relatively easy to make.
Serves 4
Ingredients
4 dried shiitake (black) mushrooms
1 dried wood ear
120 grams lean pork, julienned
2 teaspoons cornstarch
300 grams regular tofu, cut into 1 cm cubes
150 grams congealed pig's blood, cut into 1 cm cubes
7 cups chicken stock
3 large slices of ginger
1/2 cup carrots, julienned
*1/2 cup bamboo shoots, julienned
1/2 cup white rice vinegar
3 tablespoons soy sauce
11/2 teaspoons chilli sauce
31/2 tablespoons cornstarch mixed in a small amount of water
1 egg white
4 spring onions, finely chopped
Method
Scrub cucumber and rinse skin well (do not peel).
Cut cucumbers lengthways into quarters. Cut crossways into finger-length pieces.
Slice carrot into matchstick-sized slivers.
Sprinkle 2 teaspoons of salt over cucumbers and carrot. Mix in.
Refrigerate for 1 hour.
Rinse off salt and drain.
Add remaining teaspoon of salt, rice vinegar, garlic, chilli pepper, sugar. Mix well.
Refrigerate for a further 3 hours, mix and serve.
Notes
*If using fresh bamboo: place bamboo in a pot with plenty of water, bring to boil, simmer uncovered for 20 minutes. Taste bamboo; if bitter, replace water and boil for a further 10 minutes.
This dish involves quite a bit of preparation, but is cooked in under 20 minutes. Unlike many hot and sour soups, this one does not use pepper, instead relying on a fine balance of vinegar and a chilli to achieve the hot and sour effect. Although in Taiwan the soup will always include the pig's blood, you might not fancy it, even if you can get your hands on it – so leave it out. Leftovers taste fine after a few days in the fridge, but do not freeze.
---
CHINESE NAME OF THIS DISH
酸辣湯
suān làtāng
---
YOU MIGHT ALSO ENJOY THIS RECIPE   …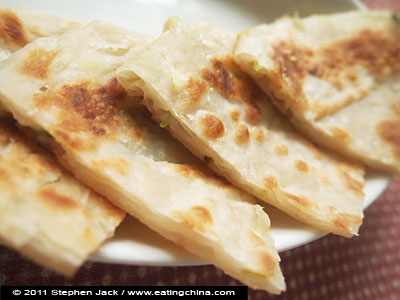 Spring Onion Flatbread
This delicious spring onion flatbread is sold all over China. Make it at home with these easy-to-follow instructions. Eat as a snack or as part of a meal. Also known as scallion pancake.
---