Last Updated:
Egg Fried Rice Recipe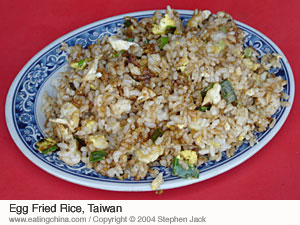 This Chinese egg fried rice recipe is simple to make at home with these easy-to-follow instructions. This delicious Taiwan-style dish is a wholesome meal in one dish.
Serves 4
Ingredients
3 oriental cucumbers
1/2 medium-sized carrot
2 tablespoons white rice vinegar
5 cloves garlic, finely diced
1 chilli pepper, sliced
3 teaspoons salt
1 teaspoon sugar
Method
Scrub cucumber and rinse skin well (do not peel).
Cut cucumbers lengthways into quarters. Cut crossways into finger-length pieces.
Slice carrot into matchstick-sized slivers.
Sprinkle 2 teaspoons of salt over cucumbers and carrot. Mix in.
Refrigerate for 1 hour.
Rinse off salt and drain.
Add remaining teaspoon of salt, rice vinegar, garlic, chilli pepper, sugar. Mix well.
Refrigerate for a further 3 hours, mix and serve.
Notes
For a variation add a teaspoon of finely diced ginger. You can substitute the cucumber with another vegetable such as radish, kohlrabi, cabbage or Chinese cabbage.
---
CHINESE NAME OF THIS DISH
蛋炒飯
dàn chǎofàn
---
YOU MIGHT ALSO ENJOY THIS RECIPE   …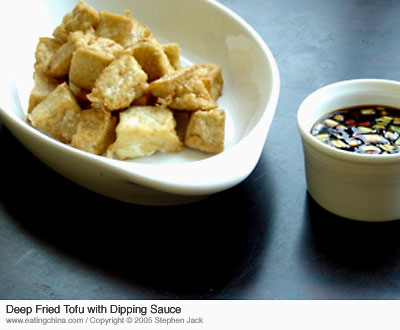 Deep Fried Tofu
This Chinese deep fried tofu dish goes well with a dipping sauce. Great as a snack or as part of a meal. It is easy to make following this recipe.
---