Deep Fried Tofu Recipe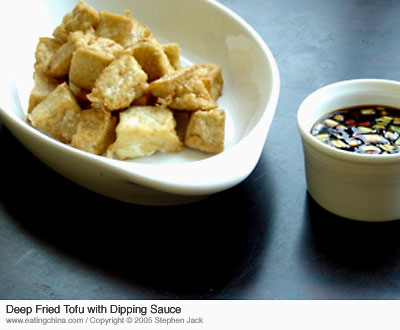 This Chinese deep fried tofu dish goes well with a dipping sauce. Great as a snack or as part of a meal. It is easy to make following this recipe.
Serves 4
Ingredients
Dipping sauce:
3 tablespoons soy sauce
1 teaspoon white rice wine vinegar
1 teaspoon white sugar
1/2 teaspoon chilli, chopped finely
1 stalk spring onion, chopped
1 clove garlic, minced
Pinch pepper
1 or 2 cakes of firm tofu, cut into 3 cm (1″) cubes
5 cups oil
Method
In a small bowl, mix soy sauce, vinegar, and sugar well.
Add remaining dipping sauce ingredients and stir. Set aside.
Rinse, and drain tofu well.

Heat oil in a wok or pot to about 180º C. (355º F.)
Optional: Dust tofu lightly with corn starch or flour for a crisper effect.
In manageable portions, fry tofu quickly until golden brown. Drain well.
Serve at once, dipping tofu into sauce.
Notes
Like all deep fried foods, this dish will suffer if not served immediately. The tofu also goes well with chilli sauce or any sauce you like.
---
CHINESE NAME OF THIS DISH
炸豆腐
zhà dòufu
---
YOU MIGHT ALSO ENJOY THIS RECIPE   …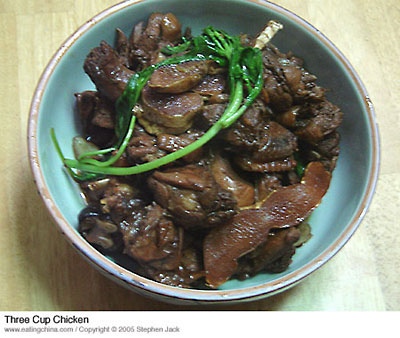 Three Cup Chicken
A deliciously pungent classic Taiwan dish. The three cups refer to one each of sesame oil, rice wine, and soy sauce. Make it at home quickly with this easy-to-follow recipe.
---