Bamboo and Pork Soup Recipe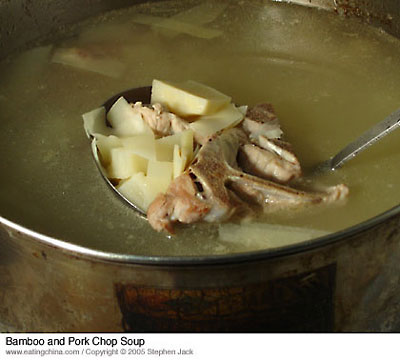 This simple Chinese three-ingredient soup is a traditional homestyle favourite in Taiwan. All you need is bamboo shoots, pork chops and chicken stock.
Serves 4
Ingredients
3 oriental cucumbers
1/2 medium-sized carrot
2 tablespoons white rice vinegar
5 cloves garlic, finely diced
1 chilli pepper, sliced
3 teaspoons salt
1 teaspoon sugar
Method
Scrub cucumber and rinse skin well (do not peel).
Cut cucumbers lengthways into quarters. Cut crossways into finger-length pieces.
Slice carrot into matchstick-sized slivers.
Sprinkle 2 teaspoons of salt over cucumbers and carrot. Mix in.
Refrigerate for 1 hour.
Rinse off salt and drain.
Add remaining teaspoon of salt, rice vinegar, garlic, chilli pepper, sugar. Mix well.
Refrigerate for a further 3 hours, mix and serve.
Notes
For a variation add a teaspoon of finely diced ginger. You can substitute the cucumber with another vegetable such as radish, kohlrabi, cabbage or Chinese cabbage.
CHINESE NAME OF THIS DISH
筍子排骨湯
sǔn zi páigǔ tāng
---
YOU MIGHT ALSO ENJOY THIS RECIPE   …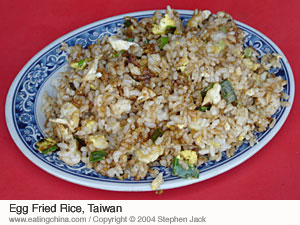 Egg Fried Rice
This Chinese egg fried rice recipe is simple to make at home with these easy-to-follow instructions. This delicious Taiwan-style dish is a wholesome meal in one dish.
---