Ants Climbing a Tree Recipe
Spicy stir-fried mung bean noodles with minced pork.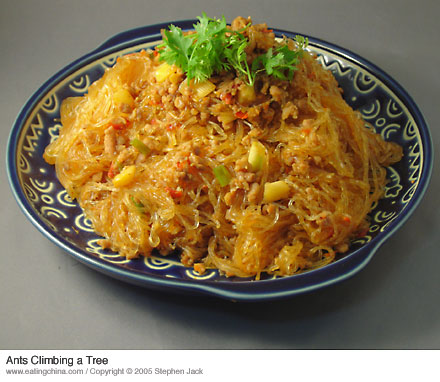 A quick and simple spicy stir-fried mung bean noodle dish that originated in Sichuan.* Make it at home with these easy-to-follow instructions.

*Mung bean noodles are also known as Glass Noodles, Chinese Vermicelli, Cellophane Noodles, Bean Thread Noodles or Transparent Noodles.
Serves 4
Ingredients
3 oriental cucumbers
1/2 medium-sized carrot
2 tablespoons white rice vinegar
5 cloves garlic, finely diced
1 chilli pepper, sliced
3 teaspoons salt
1 teaspoon sugar
Method
Add soy sauce, rice wine, hot soy bean paste, and corn flour to a bowl. Mix in pork and marinate for 30 minutes.
Soak noodles in hot water for 20 minutes, then drain.
Heat wok, and add oil. Cook pork mixture over a high heat for 2 minutes, stirring occasionally. Add spring onions and cook for a minute more.
Add chicken stock, bring to a boil. Reduce heat and cook for a further 2 or 3 minutes, stirring well.
Add noodles to wok. Stir until noodles and sauce are blended well together and most of the liquid has been absorbed. Garnish and serve.
Notes
For this dish, mung been noodles don't need to be boiled. Just steep them in hot water to make them soft and translucent. They make an interesting change from wheat flour noodles.
Now, about the name, 'Ants Climbing a Tree;' the bits of minced meat are meant to stick to the noodle strands, and that, so they say, looks like ants crawling through the branches of a tree. Fanciful, maybe, but easy to remember.
---
CHINESE NAME OF THIS DISH
螞蟻上樹
mǎyǐ shàng shù
---
YOU MIGHT ALSO ENJOY THIS RECIPE   …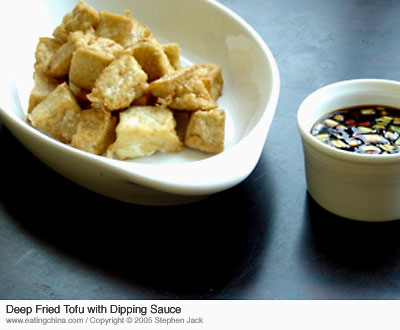 Deep Fried Tofu
This Chinese deep fried tofu dish goes well with a dipping sauce. Great as a snack or as part of a meal. It is easy to make following this recipe.
---